7000 Maharashtra schools served closure notice due to non-compliance of RTE norms
By: Admin
28 January, 2017
The National Independent School Alliance (NISA) has asked the Human Resource Development (HRD) Ministry to ease the strict norms of Right to Education (RTE) for budget private schools. It has been noticed that many budget private schools are shutting down, and have even received threats from respective state Education Department for not implementing the RTE norms.
The NISA has compiled a list of schools that have closed down, number of schools that have received a closure notice, and schools that have been threatened, across 12 states. The states that find mention in the list prepared by NISA are —Maharashtra, Andhra Pradesh (AP), Assam, Delhi, Haryana, Karnataka, Madhya Pradesh, Odisha, Punjab, Tamil Nadu, Telangana and Uttar Pradesh (UP). The data has been complied with the help of different state Education Department websites and media reports from 2014 to October 2016.
Amit Chandra, NISA, national coordinator, said, "We have given almost 18 demands. Our demand was submitted to HRD ministry officials with a compiled figure prepared by NISA about the closure of schools across the country due to non-compliance of RTE norms last week. The norms need to be eased by the government or else children who get affordable education by budget private schools will have no place to go. Not many wish to go to government schools or big private schools that follow RTE norms but charge huge fees. Hence our request to government is to make changes in the RTE norms."
What are budget private schools
Budget private schools are which offers affordable education to children from slums and rural parts of the country. These schools are private schools which are unrecognised and have only the most basic facilities. According to section 19 of the act, all private schools should meet certain norms to ensure recognition.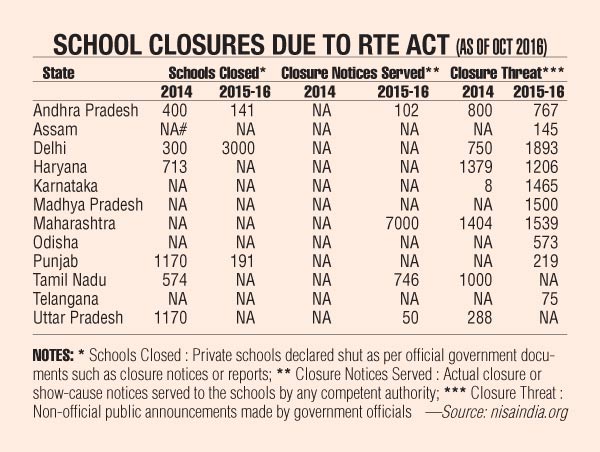 Norms for school
In school buildings there should be an office-cum-headmaster's room, staff rooms for teacher, ramp for disabled students, separate toilets for boys and girls, proper drinking water facilities, separate room for library, kitchen shed, boundary/compound wall and playground. After the Right to Education Act has come in place in 2010, all the schools of different boards in Maharashtra have to compulsorily renew their accreditation after every three years as per RTE Act.
This article has been taken from DNA india's Website. To know more Please click on the below mentioned website link:
SOURCE : http://www.dnaindia.com/academy/report-7000-maharashtra-schools-served-closure-notice-due-to-non-compliance-of-rte-norms-2293511